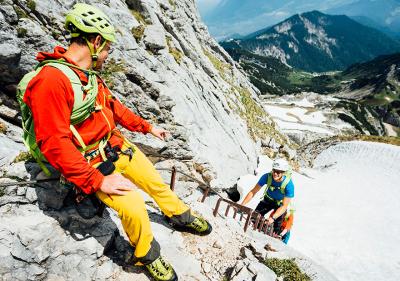 Via Ferrata Tour
Age Requirement: From 12 Years
Description
Together we climb the majestic Alpspitze over the
well-known east face ferrata in the Wetterstein mountains. Equipped with the
complete safety equipment, we will guide you after a short briefing
over the impressive climbs to this beautiful summit.

The Alpspitz Ferrata is the ideal via ferrata for beginners, with a maximum difficulty of category B.

Minimum age 16 years, from 12 years possible if accompanied
Requirements: no fear of heights, approx. 3 hours ascent, 2 hours descent
This course takes place with a minimum of 4 people.
If the course does not take place, we will inform you the day before at 4 p.m.

Minimum age 16 years, possible from 12 years accompanied by an adult
Requirements: No fear of heights, approx. 3h ascent, 2h descent.

Further costs:
Cable car ticket (available at Sport Concierge.) 33,50 € for adults 27,-€ for youth 16-18 years, 17,-€ for children 12-15 years.
If required transfer for 150€.
Description
Together we climb the majestic Alpspitze over the
well-known east face ferrata in the Wetterstein mountains. Equipped with the
complete safety equipment, we will guide you after a short briefing
over the impressive climbs to this beautiful summit.

The Alpspitz Ferrata is the ideal via ferrata for beginners, with a maximum difficulty of category B.

Minimum age 16 years, from 12 years possible if accompanied
Requirements: no fear of heights, approx. 3 hours ascent, 2 hours descent